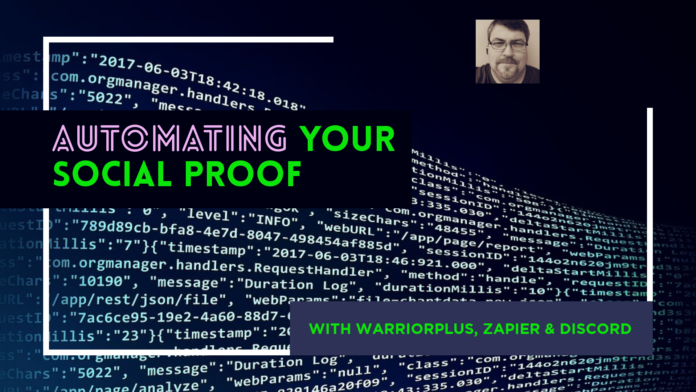 In this article, I wanted to talk about ways that you can leverage WarriorPlus combined with Zapier to automatically build social proof that gets posted over to a discord channel as a message.
Why is this important?
One of the obstacles we face as marketers and product creators, is the ability to provide social proof and credibility to build trust with our customers.
What I've discovered, is that I can leverage automation hooks and the support channels I have set up in Discord, to automatically send messages to that channel that will show when a sale is made or an affiliate has signed up or a lead is generated.
While some may think this is overkill, it actually builds an organic flow of automatic social proof as sales occur and leads are generated.
As a result, this saves me the time and effort of having to build special pages showing proof to customers when I can have it working to my advantage automatically and organically in realtime.
What I'm going to demonstrate in the video, is how I use Zapier automation to fire web hooks from WarriorPlus integrations to the Discord channel whenever my products are promoted or sold.
This is free to implement and only takes a few minutes to set up.
Zapier offers a free plan with up to five different zaps or automation rules. You can expand the plans or upgrade your account as needed, but it is not required for what I'm showing you.
In the example I am providing, I am going to show you a recent sale that came in this morning for my Abandoned Traffic Marketplace. I'm going to use that sample of an actual sale and then have it post in two different discord channels announcing and thanking the person for becoming a customer.
What we are accomplishing here, is showing in real time to users that are members of those support channels, that there is activity on your products and people are interested in promoting.
I'm also going to show the example of an affiliate request that came in to promote one of my products this morning.
The goal there is to provide proof and credibility that others are wanting to promote your products as an affiliate.
This may not be applicable to everyone, but to me is a product creator and marketer it is a powerful arsenal of automation at my disposal.
Here's the video I made on it…
The possibilities are really endless on how you want to automate and streamline your social credibility in key locations that others will see.
Here is the example I used in the video that posted a tweet as well.
Cool stuff. The #affiliate Sonja007 on #WarriorPlus has just requested to promote my Abandoned Traffic Marketplace #offer.

— MartyBostick (@fmgplan) June 13, 2019
Below is a screenshot of where the messages automatically posted to the Discord channel as well


You guys have fun with it and remember that the sky is the limit with this stuff!